MANUAL 1 FOR PILGRIMS AROUND THE WORLD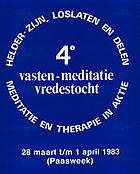 WHAT IS A CITY AWAKENING WALK?
If you haven't given up; if you long for a new start in life; if you seek being deeply yourself, while simultaneously being connected to others; if being in nature is one of the things you like most; if serving the Whole is your aim in life, then the City Awakening Walks are for you. They are one of the most spiritually-fulfilling experiences. In "these most desperate of times" in which the very survival of mankind is at stake, the challenge is to come together, while undergoing a deep transformation. we have founded the HEALING THE PLANET Initiative, consisting of 7 Steps. One of its activities is called "PilgrimCare", aiming at helping people to transform themselves inner and outer (e.g. "freeing themselves from the bondage of materialism and individualism"), while restoring the Wholeness of Life. We do this through settling down at several places along the Camino (or other routes) for several months, in which we support the pilgrims, in walking the meditative way while fasting (usually mild fasting), everything dedicated to nature, each other, and all sentient and non-sentient beings, while (optional) surrendering to the Ultimate.
COULD YOU TELL SOMETHING ABOUT THE BACKGROUND?
It started with FastingMeditationPeaceWalks. They are "golden oldies" and were held from 1981-1985 in The Netherlands, in which 60 to100 people walked for five days, 25-30 km a day while fasting. The nostalgic pictures on these pages originate from that time.
WHO WILL BE PARTICIPATING?
All participants to the Camino the Santiago or other pilgrim routes around the world. Read the epilogue to Manual 2 is welcome to our sessions. The aim is to bring people of all backgrounds together, celebrating Unity in Diversity and to develop initiatives for a New World. We not only think of individuals, but also of members of organizations: health, environment, religious, spiritual, political and cultural.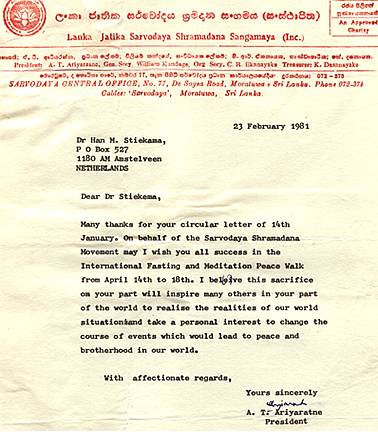 IS FOR FASTING BEING HEALTHY A PRECONDITION?
Generally, yes. It means you should not have a disorder which is a contra-indication to fasting.Unfortunately, those who are handicapped with regard to walking also have to be excluded, although sometimes a wheelchair will be a good solution. In case of doubt it is better to consult your physician first. Although we do have a team for assisting with problems, the liability is entirely yours. See: PilgrimCare Manual 2 for more information about the fasting. Also: www.vitalworld.org
WHAT ARE THE HEALTH BENEFITS OF FASTING?
Fasting is the queen of all therapies. It is astonishing how much your health may improve, provided you're doing the thing rightly. Combining fasting with walking e.g. stimulates bloodcirculation, repairs bloodvessel walls, removes blood risk factors, optimizes both immune functions and detoxification, improves the hormonal system, sharpens the senses, cures a lot of disorders, through which total regeneration can be achieved. It makes you bright, vital and beautiful.
HOW DOES THE PROGRAM LOOKS LIKE?
Every evening there is a talk called "Life as Spiritual Path". It gives you (very) valuable information about how to upgrade the quality of your pilgrimage. Consciously walking f.i. will be demonstrated. For those who want to fast during their walk extra information is avalable (+ this page). Usually a FastingWalk includes several days, depending on the local situation. Through recent experiences 12-20 km a day seems to be optimal, depending on the characteristics of the terrain, the climate etc. Apart from fasting, the walks will be mostly in silence, meditative, practicing a mantra, feeling (body) awareness, while blessing the environment (namaste). There will be breaks for meeting each other, the Heaven & Earth Exercises (optional) and sharing. The Walks are supported by Han Marie Stiekema, spiritual teacher and "Green Man". He himself regularly will be walking part of the Camino, carrying a Globe on his shoulders, symbolizing the urgend need for saving the planet.
WHY WALKING IN/AROUND CITIES?
Our future depends on the decisions made in the (big) cities. Hence, both our concern and support goes to the people living and working there. Some pilgrim routes run along cities. Walking such routes symbolizes laying a healing aura around the city compared to the walking around a Buddha statue (like Jodo-Shinshu is doing) or the "walls of Jericho", however, this time with the aim of transforming people's minds and actions, rather than having aggressive intentions (like in the bible). This combination of silence, concern and action is very powerful.
WILL THE EMPHASIS BE MORE ON MEDITATION OR ON ACTION?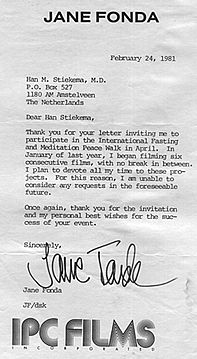 The aim of the walks is to connect "inner and outer". Where the emphasis will be depends entirely on the people participating. Some individuals will be very silent/meditative, others more active. In the latter case, the walk could even become some kind of a siege (medieval, with flags and banners...), in which the participants are demanding a change of politics, ecological regeneration, initiating self-help health care, e.g. community democracy, or/and world peace.
IN CASE OF A "CITY WALK" CAN ANY CITY BE A CANDIDATE?
Of course, both very big, big, average and smaller cities are welcome to join, wherever they are. It depends entirely on a local organizing group. If you are going to organize a City Awaken!Walk we are certainly going to come to your place.
HOW WILL IT BE ORGANIZED?
For instance, everybody can download the basic information from this website. Then an organizing group may be formed. The members divide the tasks among each other. There should be at least a group of seven: a coordinator, an experienced first aid practitioner (e.g. nurse, naturopath or doctor), somebody who is designing the trail, an organizer of the evening and the lodging, a treasurer, a secretary and a PR man or woman)1). Once the group has decided that a City Awakening will be organized, they will be contacting us. Arrangements will then be made (time, place and duration) for HMS to personally come, and train the staff 2). The aim of "City Awakenings" is worldwide transformation, from Amsterdam to Warsaw, from New York to Seoul, from Perth to Rome and from Munich to Toronto. Its combination of insight, love and strength is unequalled.
1) If you (and your friends) decide to organize a City Awakening on your own, we recommend you to give it a certain (loose) structure. Every group is largely autonomous. Hence, all administrative and/or financial matters (if any) will be managed by themselves.
2) The training includes fasting and meditation. It is based on the principles of The Universal Way.
ARE THERE ANY IMPORTANT DETAILS?
Walking a CityAwakening*, the trail - a circle around the city - should give one the feeling, that it is far enough from the city to be in beautiful nature, yet not too far to lose every sense of contact. Sometimes we will be going into the city as well. The length of the trail varies between 12-20 km, depending on the terrain. Depending on the size of your city, greater or smaller parts of the entire city circle can be walked. So, some cities can be walked in a day, others in five days. The "trail manager" should have walked the entire trail by him/herself, in order to know the details, obstacles etc. Too steep parts (mountains) should be avoided, other dangers excluded, as well. The effects of recent rains or storms should be (re)checked. No harmful/dangerous plants/animals in the area? Suitable places (at least two or three) for breaks are to be taken care of. Roofs are ideal in case of rain, and for doing our heaven & earth exercises or talks. Check places with potable water. Cellular connection with somebody in the city should be available during the walks. The easy thing is, that local participants (the majority) go back home every night, so no hotels are needed. The team is taking care of those coming from elsewhere. They for sure will find a place to sleep with friends.
* In that case, please contact us.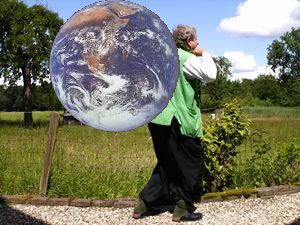 "Long Green March"
FURTHERMORE?
There are two highlights: the walk itself and the evening program. The latter will be held in the city for which locations have to be hired. The programs aim at meeting, informing, enlightening, supporting and guiding local people. The content depends on priorities, set by the city. It could consist of meetings with representatives of organizations, a spiritual teaching, a group consultation (spiritually, psychologically, medically), celebration, a press conference, or a combination of all. Depending on the need e.g. the response, our stay might exceed the timetable of the walk. For instance, an additional retreat - based on The Universal Way - could be organized. Or a Basic Health Practitioner training. Not to forget our treatments for those who suffer from pain. Obviously, an extensive teaching on the 7 Steps of Healing the Planet is our first aim. Important are meetings with local politicians. They should be urged to put our Healing the Planet project into practice, to the benefit of all. Additionally, supportive visits to local projects (e.g. spiritual, medical, women, community, organic agriculture) are on top of our list. Fundraising cannot be avoided (unfortunately). Because local groups are autonomous, funds will be flowing both to the former as well as to headquarters.
WHAT ABOUT THE PR?
Obviously, everything has to be well prepared with announcements to local TV, radio, newspapers etc. Place and time of meetings have to be published in order for the public where to go. Spreading the message through voice-mail and e-mail and the 10x10 action, in which everybody informs 10 other people is another idea. Contacting organizations is very important. It aims at informing the people about the goal e.g. mission of the City Awakening and to attract potential participants. As has been said above, City Awakening FastingMeditationPeaceWalks include a daily evening program somewhere in the City Center, in which common citizens are welcome. To share our experiences with others is a crucial part e.g. the aim of the project.