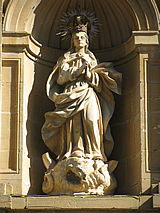 The Dragon crashed by the Madonnat....
THE BAROCK CHURCH OF ESTELLA
THE example of "barockization" i.e. infantilization of the Green Man. Instead of showing male traits, what is left here of him are only babyfaces. A "clever" "Definitive Solution" for ein century-old problem!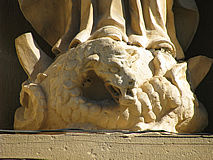 It cannot be more cynical. For the Dragon used to be a symbol of the pre-christian Universal Mother ("old Eve"). Thus, what we see here is the Mother ("new Eve") who is killing Herself.....