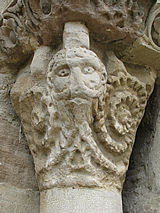 EUNATE TEMPLER TEMPLE
Founded by a Queen
And that isn't all. Eunate was founded by a Queen. Her remains have been excavated some decades ago. Why is that so important? Because it confirms the symbolism of the MotherGoddess and Her Green Men (Templer). Eunate therefore has emerged from authentic roots and that is what you feel there...
A monk with his Green Man...