THE ORIGINAL GREAT MOTHER
The Great Mother is a Trinity containing three major aspects. She is the universal Womb that is giving birth to life on all levels, from an electron, a new cycle of seasons, a cherry blossom, a young dog, the healing of a disease, the birth of a human baby to awareness, rebirth and Enlightenment. She embodies the regenerative power of the universe. Through Her everything is continuously renewing itself.
Her Law of Creation, Preservation and Destruction
Secondly, She is the Weaver of the universe. Through Her all phenomena of life are interconnected. She keeps a delicate balance between opposites. It is she who is taking care of sustainability. This aspect of life is threatened by our self-centeredness, greed, materialism and accumulation. It is the Mother who confronts us with the fact, that our society is aiming at the wrong goals. Will we learn from Her?
Thirdly, the Great Mother is the destructress of everything old, sick, ugly and nasty. Her limitless compassion is taking everything degenerating back. As said above, the Void doesn't tolerate any accumulation. Hence, once we exceed Her limits of tolerance, Her destructive power will come into effect in order to re-balance life. It is the aspect, which is of greatest actuality today. Wise people are cooperating with Her.
MOTHER HEALING
Ongoing program
Do you want us to come to you? Send us an e-mail or phone us.
Click Contact us
We bring Mother Healing there where we are needed. Everything on donation basis
Educational material, e.g. Mother images, Chinese jade stones, DVD's, books and other info is available
If you want to support us,
yes please
Also: workshops
Mamma drainage
Boosting your immune system
Stress, Burn-out & Regeneration
Prevention of cancer

During every healing session some participants - those who suffer from pain most - have the opportunity of receiving a special detox treatment. In the treatment a special oil is put on a particular area of the skin whereafter the therapist starts "scraping" the area with a "scraper" (an specially designed instrument of jade or horn). Very soon the skin becomes red. The amazing thing is, that on places where disorders are hidden, red spots appear IN the skin (not ON the skin) comparable to hemorrhage. Because the scraping is on the oily skin the patient will hardly feel pain - neither during nor after the treatment - the skin will not be damaged, and the red spots will fully disappear within 3 to 7 days

Curing hypertension
Post-antibiotics Medicine
and much more....
REGENERATION FIRST!
Program
This spiritual approach is supported by Stone Age Therapy for Modern (Wo)Man (Chinese Jade Stone "GUASHA" healing), stimulating the immune system, detoxifies and de-acidifies, promotes the circulation, regulates functions and organs, removes blockades and pain (all pain-syndromes!), revitalizes and regenerates ("life-extension"), diminishes stress, fatigue and burn-out, improves e.g. cures (indirectly) countless (chronic) disorders and complaints, rebalances emotions, relaxes and promotes clarity of mind...everything through ONE simple treatment

by Chinese Guasha Master drs MeiMei Yu, MA from Beijing
www.meihan-guasha.nl

Free Personal Health Plan
www.vitalworld.org

*In some countries (outside the EU) replaced by Self-help/Prevention treatment.
Healing through re-connecting
to the Origin

Finally, True Healing is to give up your ego, in order to be born as a New Self

Central to the programme is therefore:
4. TAKING REFUGE
in the
Cosmic Mother

Subsequently becoming part of the Whole: "Heaven, earth and the (new) community", once again
Link

"Come ye all unto Me,
I Am the All-Embracing One"

Green Man is offering additional guidance through Talks, Teachings and Healing


Guidelines
COSMIC MOTHER HEALING SHRINES
Introduction
Mission of "Green Man"
Universal Mother Teaching
The Queen of Heaven
Installing A Cosmic Mother
Healing Shrine
Instructions for Worship
(Day Course)
Mother Healing
Personal Health Plan
Day Course Regeneration
Burn-Out)
Retreat
"The Universal Way"
The Sunday Celebrations (optional)
Mother Circles (optional)
The Earth Ritual
Youth for Youth
Mothers initiating Men and Women
Special Guasha Healer Course
Mothers: Leaders of the Community
Universal Mother Council
Interreligious Workshop
"Mother & Sons"
Healing the Planet
Permanent support

SEE: MOTHER for MOTHERS

Spiritual e.g. interreligious initiative open to all
Independent (not related to any existing religion), non-commercial (not-for-profit).

ECO-TEMPLE
Cosmic Mother Healing Shrine

Links
Cosmic Mother Healing Shrine,
Mother & Sons, Mother for Mothers, Mother Healing,
Universal Mother Council

Guidelines
Thursday Evening
ORACLE
Introduction "Know yourSelf" with
Q&A session
Friday
TAKING REFUGE
Back to the Origin in order to become renewed. With contemplation, Heaven & Earth Exercises and more
Saturday
MOTHER HEALING
For all those suffering from pain: spiritual, emotional, physical
Special sessions for those with "civilization" disorders: high blood pressure, tinnitis, cancer, dementia, EMF-radiation, RSI, fatigue, fibromyalgia, parkinson, headaches, insomnia, ADHD, allergies, rheumatism, immune-deficiencies
Sunday
TALK
How to Become
a Green Man & a Wise Woman?
Spiritual Service, Health Service, Community Service,
Earth Service
During the week
Personal Spiritual (Cosmic) Consultation
Free Personal Health Plan
Stone Age Therapy for Modern (Wo)Man
(Guasha Regeneration)


Give Up Your Ego.
Be Born as a True Self.
Become Part of the Whole.
Heal the Planet.

TRANSFORMATION
.The problem: the ego as an isolated entity, alienated from the Whole. Knowing no boundaries it is blowing itself up, eventually destroying the world. Healing consists of giving your ego back to the Cosmos (Mother) through contemplation, worship and surrender.
You may expect the miraculous!
Invite "Green Man" to come to
your town or city!
Poster
Cosmic Mother


HEALING the PLANET
to begin with
YOURSELF She invites you to come back to your
TRUE HOME
Taking all your suffering, problems, worries,
fears, stress, burn-out, loneliness, depression
and illness away from you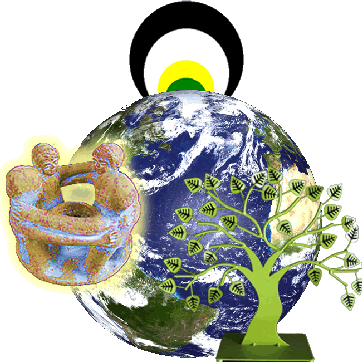 Taking Refuge
Contemplation, Teaching, Mother Healing, Ma-Zen,
Heaven and Earth Exercises, the Oracle (Q&A)

In order to become

WHOLE again:
PART OF HEAVEN, EARTH AND THE
(NEW) COMMUNITY
The return of wisdom, inner balance, joy of life, health, strength, interconnectedness, compassion....

Mission of


THE GREEN MAN
(New Teacher/Wholistic M.D. since 1972 from Holland)
Also called "Laughing Buddha"

www.healingtheplanet.info www.vitalworld.org info@healingtheplanet.info
Independent, non-denominational, non-partisan, non-commercial


In order to have a full overview of the work,
we recommend you to first going back to the beginning of
Han Marie Stiekema's website.
Please, click HOME and proceed from there.
2003 © Copyright Han Marie Stiekema. All rights reserved.
Everyone may use this website as a source of inspiration. However, since it
is freely given, no-one can claim, copy or derive any text, rights,
position or status from this website.
Last revising: 11/26/13