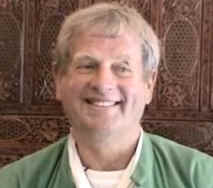 Manifest(o)
Links
"WIJ ZIJN KOSMOS!"
(This Dutch file is activated - updated 16/11/2017 - others will follow)
+
Manual
"COSMIC HEALING"
(Here in Dutch. Updated 16/11/2017. To be published shortly in English)
"WE ARE
COSMOS!"
"WIR SIND KOSMOS!"
"VI ER COSMOS"
"NOUS SOMMES COSMOS"
"SOMOS COSMOS"
"SIAMO COSMOS"
"EIMASTE KOSMOS"
"Mbl KOCMOC"
"VAGIOK COSMOSOK"
"WOMEN SHI COSMOS"
"HAM KOSMOS HAIN"
"BIZ COSMOS'UZ"
"NAHN KUZIMUS"
"WE ER KAZMES"
"TAYO AY COSMOS"
"KAMI ADALAH KOSMOS"
WATASHITASHIWA KOSUMO DESU
English/German/Dutch
Danish/French/Spanish/
Portugese/Italian/Greek
Russian/Hungarian/
Chinese/Hindi/
Turkish/Arabic/Hebrew/
Tagalog/Indonesian/
Japanese
To be published shortly
To meet the SermeS
Click:
Agenda HERMITAGE
EINSIEDELEI
KLUIZENARIJ
(English, Deutsch, Nederlands)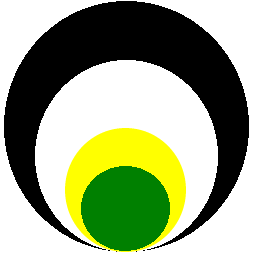 For Worldwide Campaign 2017-2018:
Agenda
HOW THE COSMIC MOTHER HEALS THE PLANET
WIE DIE KOSMISCHE MUTTER DEN PLANETEN HEILT
HOE DE KOSMISCHE MOEDER DE PLANEET GENEEST
(English, Deutsch, Nederlands)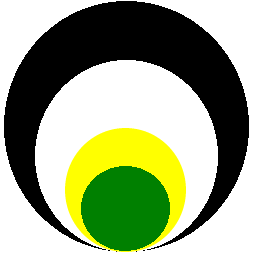 YouTube
Talks & Teachings
(English, Deutsch, Nederlands)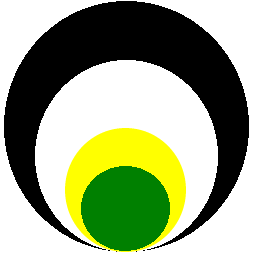 When the need is greatest Cosmos intervenes....
Wenn die Not am größten ist, interveniert der Kosmos....
Wanneer de nood het hoogst is, komt de Kosmos tussenbeide...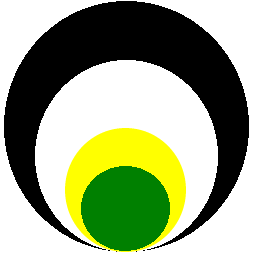 EUROPEAN GREEN MAN PILGRIM NETWERK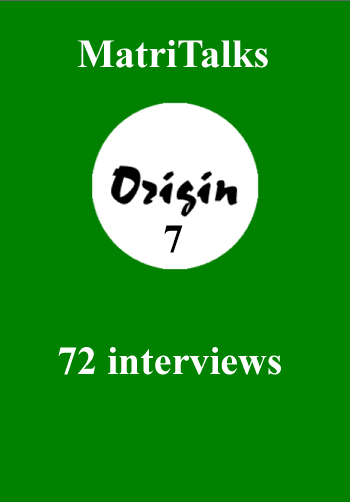 Click
Sacred Book "Origin" 7
MATRITALKS
72 interviews online
Books "Origin" 1-6
can be ordered
info(at)healingtheplanet.info
MOTHERS for MOTHER

In current times individual and social life is quickly disintegrating.
It increasingly causes insecurity, angst and
even panic.

The globalizing elite deliberately aims at undermining religious/cultural/social stability. The deeper cause, however, is spiritual: a blown-up ego that heads for total chaos:
The Ego-Catastrophe.

Religions can never solve the MESS they created. The way out: To give up our ego's while once again becoming Part of the Whole.

The only One Who can
stop the ego is the Cosmic Mother. She is giving our True Identity back: To be rooted in "Heaven, Earth and the (new) Community".

It is the long awaited "Unity in Diversity", whether you are Christian, Jew, Muslim, Taoist, Hindu, Buddhist or Atheist.

Program: 1) Self study Book "Origin" 1-7. 2) Deepening/Personal guidance. 3) Training Spiritual Service, Health Service, Community Service, Earth Service.

To subsequently working together for the "Healing of the World", to begin with the street, the neighbourhood, the city, the county, the Region and the Commonwealth. It is the beginning of A New Era.
"Join the Movement!"
In these most critical of times
in which the survival of (wo)mankind is at stake
A NEW WISDOM TEACHER
"SermeS"
M.Drs. Integral Medicine since 1972/
Founder of Cosmic Medicine
is announcing his Universal Teaching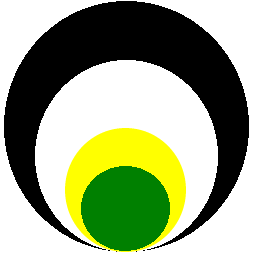 ("Wo)Man rooted in Heaven, Earth and
the (new) Community")
CultureRenewalMovement
Everything in the Name of
the Cosmic Mother
REVELATION of the COSMIC MOTHER (1977)
BEGINNING of a NEW ERA
WE ARE COSMOS!
We are part of society
Society is part of the earth
The earth is part of the universe
The universe is part of the Eternal Light
The Eternal Light is part of the Cosmic Womb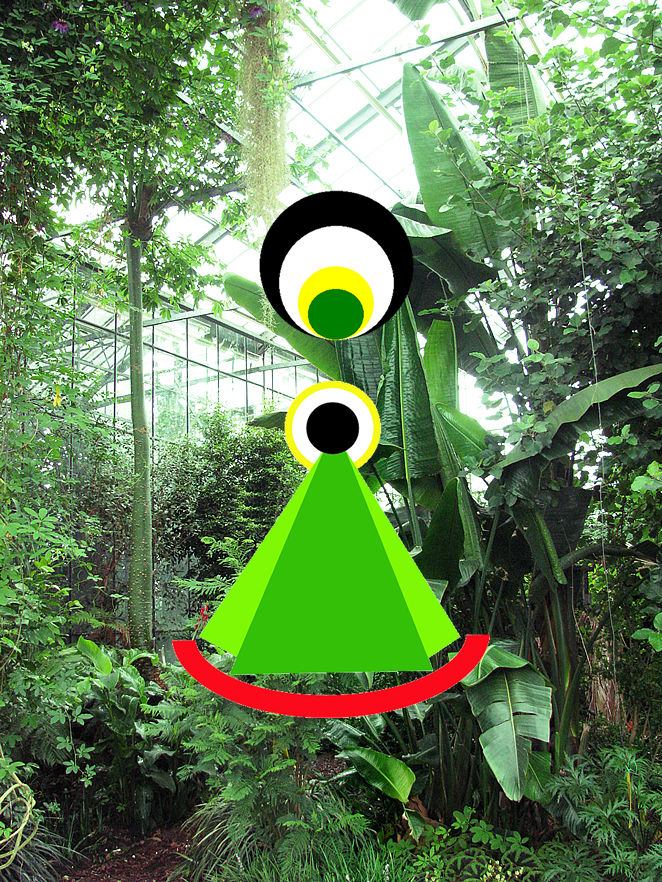 Cosmic Mother Healing the Planet
Worldwide Campaign
THE GREAT TURNING POINT
Join our CultureRenewalMovement
7 Steps towards Cosmic Consciousness
See first: our Manifesto "We are Cosmos"
(Click sideline)
1. Introduction
2. The Shattered West
3. The Ego Catastrophe
4. Revelation of the Cosmic Mother
5. Death (ego) and Rebirth (True Self)
6. We are Cosmos!
7. "Cosmic Mother Healing the Planet"
("Cosmocracy")
Cosmic * Religious * Spiritual * Cultural
Social * Political * Ethical * "Gender" * Educational *
Scientific * Medical * Economical * Ecological
8. To begin with A New Health Care
Based on the 3 echelons of
Self Care * Holistic Medicine * Technological
(regular) Medicine
Universal Educative Initiative
HEALING YOURSELF
Step I
COME TO OUR WAKE-UP TALKS/TEACHINGS
Program (Talks, Courses & Personal Guidance) in
your village, town, city shortly. See in website:
"Agenda"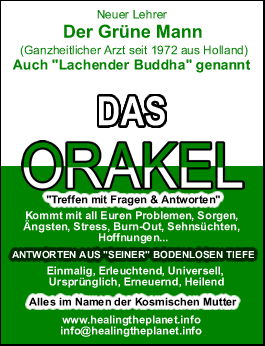 "Historic" German Poster
Link
SermeS' Short Autobiography
Prophecy (1972)
Zen Satori (1973)
Vision of the Grail (1974)
Threefold Cosmic Realization (Oct. 7, 1977)
Ten Years of Uninterrupted Bliss (1978-1988)
Dark Night of the Soul (1989-2010)
Writing the Sacred Book "Origin" (2006-2016)
Life as a hermit in Oneness with the Cosmos
Being available
Bede Griffiths (Hindu/Christian monk) on the Mother
https://www.youtube.com/watch?v=z3Dm6bt-sO0
Step II
WELCOME TO THE HERMITAGE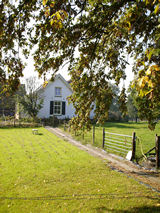 SermeS extends a hearty welcome to
every sincere seeker:
He is living a simple life in unity with the Cosmos. People from all "corners, professions and positions" - Religious people * Teachers * Mothers * Social workers * Officials * Scientists * Artists * Therapists * Politicians * CEO's * Youth etc. -
come to his "Hermitage" for personal Cosmic Advice,
Teaching, Healing and Guidance, time and again
being amazed with "his" deep Wisdom
To be published shortly
"Cosmic Healing Manual" What does "We are Cosmos" mean in practice?

To make a personal appointment with the SermeS


Theor

y

and

pra

ctical

instructi

ons
To be applied in daily life
From ego to being Whole
Daily support through direct contact

with the

SermeS

through "his"

"

He

aling Space
"
Ongoing contact through "Cosmic Resonance"
with supplementary "Healing on a Distance" of

anxiety

,

worries

,

loneliness

, stress,

the vulnerable child
within, suffering

, illnesses, problem

s
Extension of the Healing towards a
worldwide "Healing Field"
With one time a year a Big International Meeting
With the possibility of a training
as a "Cosmic Healer"
Aim: a worldwide "Cosmic Mother Healing the Planet"
Healing Community
To the benefit of all "living and non-living beings"


and the Begin

ning

of A New Era

To be published in the internet shortly
Appointments
1. Individual Cosmic Advice, Teaching, Healing & Guidance
2. Cosmic Healing 3. Small groups (1-6): Introduction to the Teaching "We are Cosmos" 4. Meetings "Mothers for Mother"
(Group max. 6)
Hermitage
"Cosmic Mother Healing the Planet"
Near Utrecht, the Netherlands
www.healingtheplanet.info info(at)healingtheplanet.info
By Appointment
+31. (0)30.6590178
Step III
THE BASICS
The third Step on your Path:
Study of the Sacred Book "Origin"
In the last couple of years he wrote down his Great Experiences, calling it the "Sacred Book Origin" consisting of 7 volumes.
In order to give you some impression of this epoch-making work (also called "Cosmic Bible") Volumes 1-6 are now available
emphasizing Cosmic Mother's compassion
with the world
Further Read: See "Manifesto" (see content at the beginning) for:
In Depth Study
(Heaven & Earth Exercises/Tiendi Qigong)
Training
INTERMEZZO
SACRED BOOK "ORIGIN" 1-6
3500 pages in total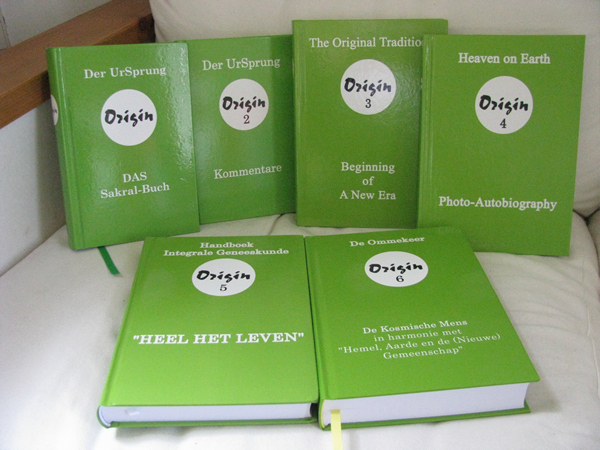 Book 1 (D), 808 pag. Book 2 (D), 344 pag. Book 3 (E), 773 pag. Book 4 (E,D,NL), 113 pag. Book 5 (NL), 472 pag. Book 6 (NL), 654 pag.
Sacred Book "Origin" in 6 volumes.
Account of the unique "Threefold Cosmic Experience"
Han Marie Stiekema SermeS, New Wisdom Teacher, M.D. Holistic/Integral/
Cosmic Medicine (since 1972, from Holland)

Volume 1 "The Origin" (German, 807 pages)
Consists of 5 books. Book 1: EGO, mankind ill in its core. Book 2: The Original Tradition. Book 3: The Holistic Transformation. Book 4: Song of Perfection. Book 5: The Inner Way.

Volume 2 "Commentary" (German, 344 pages)
Content: Universal Calling. The Ultimate (Maitreya) Sutra. Blog Unlimited. Light comes out of Darkness. The SermeS talks. "Big Brother" or "Cosmic Mother". World Peace. Universal Declaration of the Cosmo-Political Nature of (Wo)Man. Kosmische Geneeskunde. Kosmische Carriere. Mess. Eurasie: Rijk van de Moeder. Way out of the Crisis. WorldWide Campaign. European Green Man & Wise Woman Pilgrim Network. Our Future International Pilgrim Site. Heaven & Earth Exercises/Tiendi Qigong. Youth is Asking. Omniverses (Poetry).

Volume 3 "The Original Tradition" (English, 773 pages)
48 Chapters. From the Content: 3. The Shattered West. 4. The Ego-Catastrophe. 5. Religious Revolution 10. Vision of the Grail 11. Cosmic META Religion 12 The Great Night 15 Black Madonna of Einsiedeln 17. Heaven, Earth and the (New) Community 19. Mother Russia 20. China: Mandate of Heaven & Earth 25 Eco-Islam: Seyyed Hossein Nasr 28. Cosmic Mother Healing the Planet 33. Mission of the Green Man 34. SermeS, New Wisdom Teacher (His Cosmic Experiences) 35. The Nine Dimensions 37. Cosmic (Mother) Healing 38. Mothers for Mother 39. The Integral Way 40. The MeiMei Section 42. Vertical & Horizontal Leaderschip 43. The Reborn Order 45. Europe of Autonomous Regions 46. Urgent Calling to Religious and Spiritual Leaders. 47. Zombie or Cosmic (Wo)Man 48. Omniverses (Poetry).

Volume 4 "Heaven on Earth" (Photo-Autobiography. English, German, Dutch. 113 pages)
Including the MeiMei Story. Fascinating overview of life and work of Han Marie Stiekema (from the years "40 until now) and MeiMei Yu: personally, spiritually, cosmic, medically with hundreds of pictures. Some highlights: 1973 Zen Satori 1974 Vision of the Grail 1977 Threefold Cosmic Realization (Revelation of the Cosmic Mother) 1978-1988 10 Years of uninterrupted Bliss 1989-2010 Dark Night of the Soul. MeiMei Yu, her life and work 2010 until today. Living in Unity with the Cosmos.

Volume 5 Handbook Integral Medicine "The Wholeness of Life" (Dutch 472 pages)
28 Chapters e.g. A New Health Care. Subsidiarity. The Flow System. The Flow System in acute disorders. In chronic disease. The MeiMei Story. Holistic Medicine & Science. "Dr.Han". Stressmanagement. Inner Beauty. The Integral Way. Training in "Spiritual Service". Healing Communities. In Harmony with Nature. Back to the Origin. The Great Learning. Healing the Planet. Wholeness of Life. Post-Antibiotic Medicine. VitalWorld (incl. 7 sub-titles). The Sacred Valley. Omniverses (Poetry).

Volume 6 "The Turning Point" (Dutch 654 pages)
13 Chapters. 1. The Turning Point 2. Sovereign Living 3. The Seven Major Needs 4. Healing the Planet 5. Transformation Manifesto 6. Rooted in Heaven, Earth and the Community 7. The Revolution of Being 8. Sociocracy 9. Lap of the Universe 10. Song of Perfection 11. The Selfsovereign Society 12. "Heaven", Earth, the Messengers and Society. Omniverses (Poetry).
HEALING EACH OTHER

Step IV
INTERNATIONAL REGENERATORIUM
Personal Advice, Health Check-up, Treatment, Support, Guidance, Health Training with MeiMei Yu, MA, Master TCM Chinese Guasha

This is the next step on your Cosmic Path. The aim is to give you the opportunity of working on your personal integration: spiritually, emotionally, physically.

1. Brain Boost
Optimizing cognitive brain functions,
clear thinking, memory, concentration etc.Prevention of
Mild Cognitive Impairment Syndrome and Alzheimer
2. Chinese Guasha Regeneration
Optimizing all body-mind functions.
Stimulating self-healing, regeneration, immune system, detox, removal of blockades, pain treatments, anti-ageing.
3. Flow System Therapy
Optimizing basic health: nutrition, digestion, blood circulation, matrix,
cell metabolism, detox and elimination. Additional: the free Personal Health Plan in 10 steps. 45 years experience.
4. Holistic Science
Including all kinds of scientific research that support the practice of integral medicine. Central is "(wo)man - spiritually, psychologically, physically - in harmony with "Heaven", nature and society"
5. Taoist Philosophy
The connection of Brain Boost treatments with ancient Chinese wisdom: promotion of self-insight, inner balance, harmony with nature, a "long life", an enlightened ("empty") Mind.
6. Lectures, trainings and courses
Based on "Healing yourself, Healing each other, Healing the world". An integrated whole of Flow System and Chinese Guasha. We work on a long-term professional training.
7. A New Health Care
The problems of Health Care are structural.That's why we commit ourselves to A New Health Care, based on three echelons of Self Care, Holistic and Technological (Regular) Medicine respectively.

Additionally:
Mothers for Mother Project
Healing Communities
Retreats

Step I - Step IV are without obligation

, while Step V requires long-term commitment

All further infos in Book "Origin" volume 3 and Flow System Therapy.

Sessions in English/German/Dutch
See also: "Agenda"
Contact us for the details:
info(at)healingtheplanet.info

Drs MeiMei Yu, MA is a Master Chinese Guasha Regeneration. In 1997 she brought this unique therapy from China to Holland. 20 years of intensive teacing (day courses, basic courses, advanced courses) and therapy (personal consultations) are now behind her. It was time for an upgrading. As the only one in Holland she is recognized by the Chinese State as a certified TCM Guasha/Acupuncture and Moxa therapist. She is member of the "Medical Guasha Committee of China" and chosen as close collaborator to professor X.Zhang. Currently she dedicates her expertise to the "Internationaal Regeneratorium". Han Marie Stiekema, MD Holistic Medicine (since 1972) has integrated all 4 schools of medicine 1. Regular 2. Alternative/biological 3. Holistic/integral en 4. Cosmic. Through this he has unique insights in health and disease on all levels. As "New Wisdom Teacher" he guides people who have an authenthic longing for Wholeness. His Great Cosmic Experiences are written down is his sacred Book: "Origin" 6.

Geneeskunde "Heel het Leven".

HEALING THE WORLD

Step V
INTERNATIONAL TRANSFORMATORIUM
Next step of your training.
To become a "Cosmic Healer"
Spiritual Service, Health Service, Community Service, Earth Service
For those who want to commit themselves

Overview Curriculum
(Based on Ashram system)
Inspiring, renewing, enlightening, empowering,
connecting, confronting, humerous..... A Three (Six) Month's Training of Spiritual Leaders - Green Men & Wise Women - for a New World
SPIRITUAL SERVICE
To become A Cosmic (Wo)Man
Kicking the habit
Everybody is addicted to the ego. It is the core of today's global crisis and therefore of great concern. Hence, the first step is to acknowledge this fact. Followed by some days of a "kicking the habit" e.g. detox program. Those who successfully completed it are invited to join our:
See: www.vitalworld.org
"Stress, Burn-out & Regeneration"
Healing Communities/Daily "monastic" schedule
Theory and practice based on three pillars:1. Back to the Origin, 2. a "monastic" daily schedule and 3. serving others. Every candidate spends an additional three months in a Healing Community.
See: "Sovereign Living", "The First Steps" (overview) and "Healing Communities"
The Original Tradition
In these most critical of times * In which everything is in decay * we go back to the Origin in order to Become Renewed * Once our True Self is born we will be Part of the Whole - Heaven, earth and the (new) community - once again! Development of a New Ethics e.g. Values based on holistic principles.
See: "MatriTalks", "Cosmic Mother Healing",
"Existential Consciousness"
Study of the Tradition of the Universal Cosmic Mother e.g. Essence and Evolution of "Green Man" and "Wise Woman" in various religions and cultures. Guidelines e.g. The Parzival myth and the Maitreya Mind Training.
See: "Restoring the Wholeness of Life", "The Original Tradition", "Twelve Religions", "Great Mother Buddhism"
Retreat Intensive
Based on the Universal Way e.g. 1. Awaken!, (mindfulness training) 2. Personal integration (a.o. through emotional self-integration) 3. Being rooted in Heaven and earth (Heaven and Earth Exercises, tiendi qigong, sanctifying nature) 4. Breakthrough of the Light (Ma-Zen) 5. Purification/Catharsis (Chinese Guasha therapy) 6. Taking refuge in the Ultimate (contemplation and mantra) and 7. Service (to the community)
See: "The Universal Way"
Great Night Initiation
"Final" taking refuge in the Cosmic/Dark Urground. Solitary stay in a Dark Room. Confrontation with the Ego and unprocessed emotional contents. Inner transformation through "Death" and "Rebirth". Birth of the Inner Light or True Self.
See: "The Great Night"
Cosmic Spirituality and Science (CSS)
Science and spirituality are interwoven. Study of META Cosmology therefore is an integral part of your curriculum.
See: "The Supreme Design", "Universal Teaching
Competence:
Spiritual Advisor/Guide. Teacher of the Original Tradition. Trainer of the Universal Way. Initiator of
Healing Communities
HEALTH SERVICE
A New Health Care for Everyone
A New Health Care
As model for the near future, consisting of three echelons: selfhelp, holistic and technological medicine
The Principles of Integral/Cosmic Medicine
To start with "Flow System Therapy"
A breakthrough in holistic-medical thinking and practice, in which basic metabolism (health as the dynamic balance between input, processing and output of nutrients) plays a central role
Cosmic (Mother) Healing
To give up the ego is the most crucial step in healing yourself, each other and the planet. We train you to become a Cosmic Healer: the (unique!) integration of Emptiness, Consciousness and Regeneration. Including the "Mother for Mothers" Project
See: "Mother Healing", "Mother for Mothers"
Personal Health Plan
Self-help health program, consisting of 10 steps during 6 weeks. An indispensable experience on the road to optimal health.
www.vitalworld.org
Pain Therapist
Spiritual, emotional & physical through training in Chinese Guasha therapy ("Stone Age Therapy for Modern (Wo)Man")
Head of the Health Department
Master MeiMei Yu, MA, teacher & therapist
from Beijing, China
See: www.vitalworld.org & www.meihan-guasha.nl
Competence:
Advisor New Health Care. Holistic Health consultant. Chinese Guasha Therapist, Leader "Cosmic Mother Healing Shrine". Emphasis: "To help people helping themselves"
COMMUNITY SERVICE
Once you commit yourself to the Whole, the Whole will commit itself to you
Self Study Culture Renewal
Recommended are the 10 Steps of our "Healing the Planet" initiative: The New Cosmology, The New Tradition, The New Integration, The New Economy, The New Health Care, The New Society, The New Woman/Man, The New Education and The New Earth
E-learning, see: "Healing the Planet"
Competence:
Initiator/facilitator of social change
in the community, focussing on peace, justice and sustainability
EARTH SERVICE
In which all previous learning is integrated
Trainee
Evaluation of the Training through spending at least one month participating in organic agriculture, with sustainable energy projects, nature conservation i.e. sacred landscape initiatives, helping people survive in environmental disaster area's, etc.
See:"Healing the Planet" & "Sacred Heritage"
Mother Quest in the Wilderness
Restoring unity with Cosmic Mother, the Light, the earth, yourself and the world. F.i. Body-aware walking. Fasting. Sanctifying nature (Heaven & Earth Exercises/Tiendi Qigong). To develop compassion
In the summer in the mountains; in winter in tropical rainforest; sometimes in the desert..... (
Sanctifying Nature
Inner balancing through "Heaven & Earth Exercises" (Tiendi Qigong), the only Qigong that achieves Oneness with nature, through wu-wei (effort through no-effort)
Competence:
Depending on your experienceyone
Cosmic
Step VI
Cosmic Mother
HEALING the PLANET
Our Commitment
Cosmic
We are Cosmos!
Religious
Cosmic META-Religion
Spiritual
To give up your ego
Cultural
As Above, so Below
(Cosmocracy)
Social
To Be yourSelf in Connectedness
Political
CommunityDemocracy
Ethical
To be Part of "Heaven, Earth and the (new) Community"
"Gender"
Mothers as the leaders of the community
Educational
"Youth First"
Scientific
Based on META-Cosmology
Medical
Cosmic/Holistic/Integral
Economical
Economy of the Enough
Ecological
Harmony with Nature
For further elaboration,
see Book "Origin" volume 1-7
| | | |
| --- | --- | --- |
| Europe Motherland | Mother Russia | Mother China |
| | |
| --- | --- |
| Mother India | Mother Latin-America |
Cosmic Mother: Healer of the World
and all religions are Her "Sons"
Queen of Heaven (Judaism), Mother of God (Christianity),
House of Allah (Islam), Mother of the Gods (Hinduism),
Cosmic Womb (Taoism), Nothingness beyond
Nothingness (Buddhism)
Step VII
ODE TO THE MOTHER
Our Cosmic Mother,
Bottomless Ground of existence.
Womb of the All.
Not God created the World out of Nothingness,
but Nothingness is giving birth to God
and the universe.
Mystery of Mysteries.
Light is coming out of Darkness!
Mother of God, of the Light and of BuddhaNature,
of the universe and the green Earth,
the grass, the trees, the animals and people,
of the rivers, the rocks and the clouds.
In the selfsame Eternal Moment
taking everything back into Your Lap.
Destroyer of the ego.
Birth-Giver of the True Self,
in order to become part of the Whole,
once again:
"Heaven, Earth and the (new) Community"
We are Cosmos!.
Green Men and Wise Women are
calling on You:
Universal Mother, Eternal Wisdom,
Law of the Universe, Queen of Heaven,
Refuge to the lost, Liberator of the oppressed,
Comfort to those who suffer.
Destroyer of evil, Healer of the world.
Loving Mother, All-Embracing One,
we are longing for Renewal,
Healing and Wholeness
Jai Mata Di!
"The Mother prevails!"
Link
Cosmic Mother
She is everywhere
We live in a system hostile towards God,
nature and (wo)man
Ego destroying Wholeness
Therefore:
Join our WorldWide Movement


The problem: ego being synonymous with "normality".
That's why you don't realize living with a false "I".
Indeed, in his book "The False Life" psychiater
H.J. Maaz calls ego a "normopath"
Other Links
(Our storehouse)
BREAKING NEWS
A "Hermit" from Holland - the one who has been Beyond the Beyond of Space and Time - has come forward claiming to have the key to Saving the Planet,
simultaneously announcing A New Era of World Peace
SermeS' Mission: Showing (wo)mankind the way out of the Ego-Catastrophe
IN PARTICULAR
He is asking international organizations, governments, universities, churches, communities, political parties, cities, businesses to subscribe to "(Wo)Man rooted in "Heaven, Earth and the Community" as the new universal cosmo-anthropological principle with the aim of establishing "Unity in Diversity" around the globe
NOTE!
We are not alone
We are not powerless
We are not ignorant
Nothing can trample down the Spirit
We are Cosmos!
Join our WorldWide Community
Send your questions and I will (try to) answer them
Our "Oracle" blog will be opened soon
NOTE!
To be published soon:
"Cosmic (Mother) Healing Manual"
DITTO
SermeS'
Great Cosmic Experiences
incl.
"Omniverses"
(Poetry)