From the practice
A compilation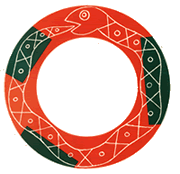 Client
Recently, I suffer from increasing withdrawal. Many times a day I get a flash of receiving a "bad message". It seems that the world is becoming a threat to me. I think deep within I am afraid of everything. I hardly come out of my home, anymore. What could that be?
CC
Let's go within together. You may start with feeling your feet in contact with the floor. Feel and watch. (After some minutes). Start watching your breathing. Feel the breathing out and in. (After some minutes). Keep contact with both the ground and your breathing, while watching the inside of your eyes. Is that comfotable with you?
Client
There is a lot of tension in my eyes.
CC
Okay, just relax and keep contact with your body. (After some minutes). You are not going anywhere, but instead - through the body - gaining a sense of the HereNow. Sooner or later, there will be an inner stability felt: you are "here" and your thoughts are "there", in front of you. There appears to be an inner distance between the two.
Client
(After some minutes). Yes, I can see that. I feel detached and my thinking is passing by.
CC
We can go one step further. While keeping contact with both your feet and the breathing your attention goes within: to your back. You feel the contact of your clothes with your spine e.g. trunk. Do you feel that?
Client
Yes, I do.
CC
Good. You may now imagine that your back is bathing in light. The more you stay in the HereNow, the sooner it will come.
Client
Is this the Cosmic Mandala exercise? Should I imagine the whole image?
CC
No, no, not yet. It is enough to feel the light, while watching e.g. seeing it.
Client
My back becomes warm.
CC
Just relax and enjoy it. Once the light has established itself, remember a moment of fear, like the ones you have in your daily life.
Client
That's not easy now. Everything is very quiet.
CC
I understand. Just invite a moment of fear to come up. When it comes, you "stay where you are". Recognize the fear and ask your depth (every moment your breathing out disappears into your pelvis): what is behind my fear?
Client
(After 7 minutes). Nothing happened until now.
CC
That doesn't matter. Maybe it is good to know, that in the mean time I did exactly the same exercise. So, you are not alone. I am in the same Space as you are. We are in the same Space.
Client
That feels VERY good. It suddenly gives the entire room a different quality. I feel part of a greater Whole. Deep trust enters my being. My body also resonates. A shivering runs along my spine.
CC
Very good. Be that Space and let everything else go.
Client
I had a flash of intense anger.
CC
Yes, I see it.
Client
O, my God. It is directed toward my little brother. It isn't anger, it is sheer hatred.
CC
You see yourself as a child together with your little brother?
Client
Yes, yes, an entire surge of images appears. I see myself as a young child. Very much loved by my mother. Then (after two years) my little brother was born. Because he was very weak, he immediately claimed my mother's attention, in such a way, that I felt acutely abandoned.
CC
So, what do you feel now?
Client
My anger has turned into overwhelming pain. My mother suddenly feels miles away from me, unapproachable.
CC
So, first there was pain?
Client.
Yes, I lost my mother. And my little brother is the cause of it. He managed to totally occupy my mother's love. Not only then, but for many years after, as well.
CC
Is that the cause of your hatred?
Client
It is. Of course, I had to keep it for myself. That's why I became very introverted. "A boy with deep waters" my parents used to say.
CC
But now you can see it clearly?
Client
Very much so. The Space HereNow makes everything very transparent. Everything is interrelated. First there was (is) this immense pain of having lost my mother. It turned into hatred toward my brother whom I accused of being the cause of my suffering.
CC
What about your fear?
Client
My fear is always there. It is directly linked to my hatred e.g. my strong desire (as a young child) to get rid of my little brother. It is the fear for my hatred being discovered.
CC
What would happen in that case?
Client
I had many dreams in the past, where "they" were after me. Trying to punish me for "crimes" I had committed.
CC
How do you feel now?
Client
It is the Space that makes the difference. It gives me the security I once was begging for. It somehow feels like a homecoming. My pain, anger and fear have lost their power. Is this Space what you call the Cosmic Mother?
CC
It is Her Light Body*.
Client
Joy appears at the horizon. It dawns to me that the "Mother" is giving me a second chance. She is fully accessible, so I feel my obsession towards my mam is dissolving. Moreover, there is no little brother standing in between, anymore.
CC
And there is no reason for being afraid of "the world" either.
Client
Right. It is a domino-effect. Once they generated each other, now they drag each other down into nothingness
CC
Haven't you forgotten something?
Client
(After 10! minutes). O, yes, of course. Neither my mother nor my brother is to blame. My mother certainly loved me but was incapable to express it and my brother claimed my mother because he had to survive .....I should forgive them!
CC
Forgiving them means they were somehow guilty?
Client
(Silence). Well, eh, of course not. Both acted out of deficiency. My mother because she was overburdened, my brother because he was very weak at birth
CC
So...
Client
The human condition is that of deficiency. What the East calls karma. Once you see deficiency determining one generation after the other, everything can be accepted. Things are simply like they are. No guilt.
CC
I like the word "deficiency" as a definition for our human condition.
Client
Through becoming Space these conditionings disappear, though. Eventually, I am NOT my karma!
CC
Three days later my client called. His fear had completely evaporated.
Client
(After 4 months). I now grasp what you mean by "Cosmic Mother". She is indeed a miracle. Only Nothingness can unwind your inner knots.....Through daily worship these dark clouds are definitely gone for ever. I am a new man! My new insight in life: "How can you accept others if you yourself don't feel accepted!"
CC
May you always trust the Mother!
* In the Great Night Initiation one directly go into Mother's Dark Essence
NB. Obviously, this is a very personal record of one client. The sessions are always (very) different. Sometimes only the CC goes into the Depth, with the client asking questions