Letter to the Media

Letter to International, Religious, Cultural, Scientific, Political, Economic Organizations

Letter to Interfaith Organizations

Letter to Green Initiatives WorldWide

Letter "The Original Tradition"
See Links 1-12 in the index-page

Letter "Why a Cosmic Religion?"

Letter "Know Yourself"

Letter "Cosmic Gender"

Letter "Eco-Spirituality I"

Letter "Eco-Spirituality II"

Letter "Sacred Groves"

Letter "Healing Communities"

Letter "Cosmic Governance"

Letter "Cancer as Multi-Etiological Sumtotal Syndrome" (MESS)

Letter "Digital Dementia"

Letter "Mother Healing"

Letter "Stone Age Therapy for Modern (Wo)Man"

Letter "Free Personal Health Plan in 10 Steps"
www.vitalworld.org

Letter "Gratitude"
ECO-SPIRITUALITY 2
The Practice
"Nature has its Home in Me"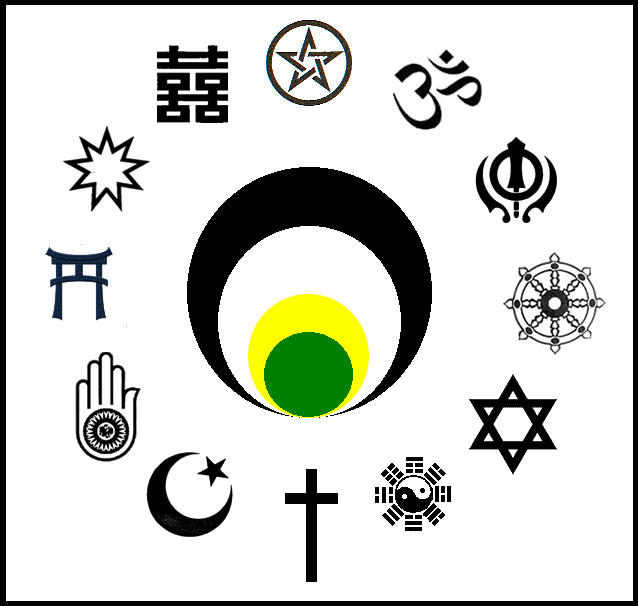 The Original Tradition
of the
Universal Cosmic Mother
Mission
Healing the Planet
Founder
Han Marie Stiekema Sermes
("GREEN MAN")
Based on:
Spiritual Service, Health Service, Community Service
Earth Service
1.
The "classical" approach to Spiritual Realization is to start with yourself, ending up with the Whole. In Eco-Spirituality you start with the Whole, while ending with yourself. In my Letter to you "Knowing Yourself" I have described the former path in detail. It is written from an ideal perspective. In practice, it rarely goes off smoothly, though. Self(ego)effort is the cause of the fact, that Wholeness is percieved as a personal achievement. "Liberating yourself" being the final goal. Today, it will be clear, that this is not sufficient anymore. Wholeness should include all and everybody. Therefore: "to start with yourself" should be largely abandoned. In order to be fruitful, more inclusive ways have to be tried. Nowadays Eco-Spirituality is taking the lead in this regard.


WHOLENESS AS THE START, THE WAY AND THE GOAL

2.
I got all my insights from walking in my beloved forested dunes (in the West of Holland). My Heart is longing for declaring these groves as sacred. To me they are, just like any other piece of our earth. My secret: right from the start I focus on the Space in which the dunes, the trees, the grass and myself are. I see everything from the perspective of Omni-Present Space. Very soon I feel myself a "tree with the trees", both equally "object" in the selfsame Space. Seeing the Space with a clear eye and feeling it, sooner or later leads to becoming one with it. I am the Space in which everything is and I myself walk. I recognize my inner Space being identical with the outer. Eventually there is only Oneness.

EVERYTHING, INCLUDING YOURSELF, UNINTERRUPTEDLY EXISTS IN THE COMMON (DIVINE) SPACE

3.
Looking back, the effort to evolve from ego toward Realization looks a "little overdone". Investing so much energy in achieving something that you ARE ALREADY from Eternity.....is indeed hilarious. So, it seems VERY worthwhile to involve yourself in the Eco-Spiritual Path. During my walking I always write my sudden insights down on small notes. They are what they are: sudden insights. So, don't expect serious theses, but pick up the "flower seeds that are falling down the trees".


4.
Standing still, feeling my footsoles firmly rooted in the earth, gives me already closeness to the Real Thing: clear awareness and awe for All-Inclusive Wholeness. Sometimes it is really "overwhelming", the experience of being part of a "Cathedral of Eternal Silence". Of course, this isn't Full Enlightenment, yet, the Space being "only" a reflection of the Ultimate. The surprise, however, is that Eco-Spirituality gives you a taste of Wholeness almost right from the start. A Wholeness that concerns not only yourself, but the Whole of existence.


MOVING CREATES FUTURE AND PAST. STILLNESS IS ETERNITY

5.
Surprisingly, two common situations contribute a great deal to my Realization of Inclusive Space: sitting on a terrace and walking in a shopping mall......The first is the easiest. Usually people sit calmly on their chairs. Just a shift of perception.....and people appear as "objects" in the Space around. Tuning in into the Space, seeing everything from its perspective, instead of being "caught" by images (as we commonly do) is something that has to be learned. The shopping mall is the next step. Because people move "chaotically", the unmoving Space is easy to identify with. It seems contradictory, but it is not. Try it!

6.
Back to the forest. A couple of phenomena can be observed. Although it's you, who is walking amidst an "unmoving" environment, with every step forward, you let your immediate surroundings behind. It is the same experience, when sitting in the car or train. Because you are moving, everything around you also moves. It leads to the delusion of "everything is moving". Existentially, it means that there is nothing in the universe to go by anymore. The Cosmos doesn't provide any footing. Everything is relative. It supports the current ideology, that everything is "constantly changing", in which - and that is crucial - you are not the Master but the victim, an easy prey to manipulations of all kinds.

FUTURE AND PAST ARE TWO EQUAL, OPPOSITE MOVEMENTS. ADD THEM UP AND THE RESULT IS....ZERO
7.
Some more details. By walking (assuming a common mind and not the inner observer) you focus automatically on what is in front of you. Your are conditioned to the steps to come. It means, through moving (walking) the common mind CREATES future. At the same time, you leave the grass, the shrubs, the trees alongside your road behind you, CREATING the past. On the other hand, when you stop, by standing still, you reflect the stillness around you. Suddenly, this orientation to future and past has disappeared. Inside you are still too, part of the HereNow. Living the Space, everything is there, as IT IS, perfect.

YOU DON'T CREATE REALITY, YOU ONLY CREATE ILLUSIONS

8.

Evidently, the Space of the forest is not the Ultimate Space. But it helps you to Realize stability. Sooner or later you will experience, that the outer Space induces your inner Space. From that moment on your inner observer is born. While walking your inner Space remains always the same. You have realized your inner Center of unchanging! Stability, Clarity, Freedom (from conditioning), Inner Joy and Peace. It is your Innermost Core, while, yes, at your surface things are constantly changing. And this all without (too much) effort, without the eternal struggle with your ego!

INNER AND OUTER ARE ONE

9.
Which brings you closer to fundamental self-insight. For being identified with thoughts, emotions and desires also conditions you to "things to come". At the same time - just like in the "outer" world - you leave your "old thinking" behind. People therefore live in between future and past, neither of the two is real. The "normal" mind is a "virtual" mind, already! Not surprisingly thus, that people are caught by the "digital world". The latter (in its extreme consequence) is simply an extension of our self, having lost contact with Reality: the Divine, the faculties of the mind, your body and nature, your deeper feelings and its contact with other people. A mind as a one-dimensional addict of images, is on the way of becoming a zombie.
See: Letters "Digital Dementia" and "Zombie"

10.
Back to our point of departure. It appears that Wholeness is there from Eternity, with us and the whole earth as content of its Cosmic Space. Many are like fishes searching for the water, though. Eco-Spirituality, on the other hand, stresses that we are uninterruptedly IN IT, with no way of ever getting out. To start with "outer" Space brings you the Realization of Wholeness right from the start. Moreover, it gives you a sense of the interwovenness of all living and non-living creatures, including yourself. It therefore solves the ego-problem before it even arises. You avoid the trap of "first" working on "your own liberation", in order to LATER becoming open to the Whole. This is delusion, because with the ego as underlying driving force, you never will leave it behind. You are (in) the Whole, just like the grass, the flowers and the trees. Unlike them, you have been granted with Realizing IT, though. It is your True Nature. Don't miss IT.

ALL SECURITY COMES FROM EMPTINESS

11.
The Cosmic Mother is your True Home. She is the Origin of All. Her first emanation is Her Light Body, formerly called "God". Her second emanation is Her Material Body, the universe, of which our earth is a part. We are all embedded in these four Cosmic Layers. By continuously tuning in into those layers, we find Trust, Security, Joy of Life, Renewal, Healing, Wholeness and Compassion. The time of taking refuge in a "savior" is over. Only Reality - the Origin - will do!

Enough for today?


In order to have a full overview of the work,
we recommend you to first going back to the beginning of
Han Marie Stiekema's website.
Please, click HOME and proceed from there.